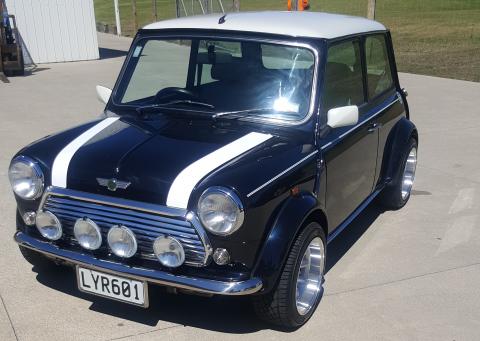 Originally there was only MK1, MK2 and MK3 on sales brochures, but the MK4 was introduced by Keith Dodd in 1976 to help owners understand the main spares parts changes.  From there we eventually got to MK7.
MK1

 

The original MK1 from 1959-1967 and had

a smaller rear window,
small round rear lamps,
external door hinges,
no bonnet moulding, but a moustache shaped grille moulding,
green lens on the end of the indicator stalk,
sliding windows.

MK2

 

MK2 was introduced in October 1967 and had

a new grille with upper moulding attached to the bonnet, except for van and pickups,
larger square rear lamps,
larger rear windows,
indicator stalk loses the green lens and becomes multiple use with horn, indicators and headlamp dip/flash.
sliding windows.

MK3

MK3 was introduced in November 1969, and had

wind up windows
internal door hinges, except van and pickups.
boot lid lost the original hinged number plate and its recess shape; a larger number plate rear colour coded lamp was fitted in its place.
larger rear side windows.
rod change gearbox fitted from 1973.

MK4

MK4 was introduced in 1976 has:

a front rubber mounted subframe with single tower bolts and the rear frame had some larger bushes. 
twin stalk indicators were introduced
larger foot pedals.
from 1977 onwards, the rear indicator lamps had the reserve lights incorporated in them.

MK5

MK5 - From 1984 onwards, all cars have

8.4" disc brakes and plastic wheel arches but retained the same MK4 body shell shape.

MK6

MK6

1990 on where engine mounting points were moved forward to accept 1275cc power units. This includes the HIF carb version and the single point fuel injected cars which came out in 1991. 
The 998cc power units were discontinued.
The L/H inner wing gained a large round hole for electric fans with the introduction of the SPI models.
Bonnet release fitted from 1992.

MK7

MK7

The final twin point injection with front mounted radiator, which was announced at the October 1996 motor show and generally released in 1997. 
Production ended 2000.

Riley Elf and Wolseley

Hornet

Introduced in 1961 with 850cc engine.
November 1962 the MK2 was introduced with 998cc, October 1966 the MK3 was introduced with wind-up windows and remote gear lever
Production finished in August 1969.